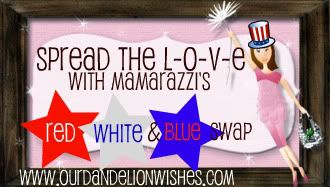 A few weeks back I signed up to participate in Mamarazzi's "Red, White and Blue Swap" I was lucky enough to be paired up with a super cool lady...Trina at
"The Life and Times of the Perry Family"
On Monday I received this wonderful package...stuffed to overflowing with Red, White, and Blue goodies! I was so excited to unpack this box and discover all the treasures inside!
I loved how the box was lined with bridal netting and sprinkled with Red, White, and Blue confetti stars! How fun is that!? Just look at how cute the box looked, even after I emptied it!
Everything was wrapped in festive red and blue paper and had the added touch of little personalized notes on each one. I Loved this touch!
There was this darling frame with a suggestion of using it for a photo of Cloe or Vern. Honest to goodness I've been meaning to put out a photo of Cloe ever since we lost her and I kept putting off finding a frame! Now I have one and I will be adding a photo of Cloe soon.
I love this patriotic heart light for sticking up in my car window!
Red White and Blue yummy treats!
I am so, so touched that Trina included these "Treasures for Autumn!" She will be so excited to get these when she comes here on Saurday.
Red, White, and Blue scented candles....I love these!

Another sweet gift with Autumn in mind. Autumn will love baking these with Grandma Honey for a tea party!


Then there was this wonderful basket just filled with tons of Red, White, and blue stuff! This was a treasure chest! There are socks, and scrunchies, and nail polish, and chapstick, and magnetic bag clips, and window clingies, and a note pad, and even red, white, and blue tumblers!

Wait! I'm not done yet! I was amazed at how much loot Trina was able to squeeze into that box! A bottle of car air freshener


and a sneaky brush for the cats...sneaky in that it fits in the palm of the hand so they think you're just petting them....nice!

And a blue wind twirler thingie...I love watching these!
And last...but not least...my favorite things in the box...these darling little, country style, nick knacks! These are absolutely adorable!



Trina did a wonderful job putting together a box of Red, White, and Blue blessings! I love all of it!